Food, Beer and Free T-Shirts aka Diggnation Live at Beach Chalet
Last night was the live taping of
DiggNations
at
Beach Chalet
in San Francisco. They were taping their
50th episode
to celebrate their one year anniverary.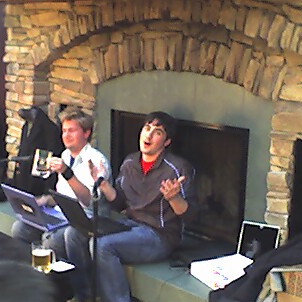 Diggnation pix
on textamerica
Taping was as to be expected. "Studio Audience" thing is never as exciting as it might sound. But good to see the guys up close and get a look to see who they hang with.
As well as the Diggnation folks Patrick Norton, Jim Lauterbach, Roger Change and Dan West were hanging around.
Beach Chalet turned out to be a great place though. Have to make a few more visits there. Right next to the beach (as the name might suggest) in San Francisco. Good beers, food and views. Bit of history, but I managed to avoid that.